Setting up XBRLizer to work with the Indian taxonomies
The MCA in India has published an XBRL Taxonomy for companies in India to report to them.
The taxonomy can be opened in Reporting Standard XBRL Tools set, the users can easily do the following things:
Review the taxonomy content
Create XBRL reports
Open existing XBRL reports
Export reports to Excel or to other formats
Map from Excel or other formats to an XBRL Report template to facilitate automatic XBRL report creation
Storage on the XBRL Database
Complete XBRL validation including XML Syntax, XBRL syntax, XBRL Calculation ... Our processor supports XBRL formulas and Rendering of XBRL Forms (not used on this taxonomy) which are the most advanced technologies developed for XBRL.
XBRL in India has come a long way since it initiated. Stock Exchanges and the Reserve Bank of India (RBI) have been using XBRL since 2009. Both BSE and NSE use an XBRL enabled integrated filing platform for corporate disclosures. RBI makes use of XBRL for internal reporting i.e. for collecting the capital adequacy related data from all banks so as to check their compliance of Basel - II requirements. More recently, Ministry of Corporate Affairs has mandated XBRL in India in a phased manner for all companies.
The mandate applies to the following companies:
All public listed companies in India and their Indian Subsidiaries
All companies having a paid up capital of Rs. 5 crores and above
All companies having a turnover of Rs. 100 crores and above
Currently the mandate excludes companies working in Banking, Insurance, Power and Non-banking Finance (NBFCs) sectors. It is proposed to include companies operating in these sectors to file their financial reports in XBRL from FY 2011-12.
All the companies that fall under the mandate are required to file with MCA following information in XBRL:
Balance Sheet
Profit and Loss Account
Cash Flow Statement
Schedules related to Balance Sheet and Profit and Loss Statement
Notes to Accounts
Statement pursuant to section 212 of Companies Act 1956 relating to subsidiary companies
Auditors Report
Directors Report
Companies scheduling AGM before 30-09-2011 are permitted to file up to 30-09-2011. Companies scheduling AGM in September, 2011 are permitted to file within 30 days of adoption of accounts in the AGM.
The current mandate requires filing of only the XBRL instance document, i.e., only the data is to be filed; no Taxonomy is required to be created for the filer. The filer has to refer to the standard taxonomy structure, viz., taxonomy approved by MCA and developed and made available by ICAI.
Taxonomy can be compared with a dictionary of business terms (The current version of the Indian GAAP taxonomy has 3076 terms). Each information within the Profit and Loss Account, B/S, Cash Flow Statement, Schedules, Notes to Accounts, Directors report and Auditors report, and other statements included within the scope are to be categorized using those 3076 terms. In addition to the taxonomy, certain business rules are also made available by the MCA.
The current approach of MCA is a closed one, wherein no custom changes to the taxonomy relationships are permissible; for example: If a concept reported by the company does not exist in the standard taxonomy developed by ICAI, the information will not required to be tagged. In other words, filers can skip the information; however, such information will be present in the complete filing in its conventional format but not in the XBRL filing. From FY 2011-2012, MCA will be allowing users to capture such information within XBRL documents since the creation of custom business concepts will be allowed.
You can use XBRL creation software packages to create XBRL documents. This type of software enables creation, review and validation of XBRL Documents. MCA will be making available an XBRL validator to help filers validate their XBRL documents against MCA's pre-defined rules. There are two approches available to companies to create XBRL Documents:
Outsource: Provide your finalized accounts documents to an XBRL service provide who would use the data to create XBRL for you. Filers can review the XBRL Document created by the service provider and then file with MCA.
In-house: XBRL application software packages or an XBRL feature integrated within accounting packages can be used. XBRL applications - such as XBRLizer - allow you to map, tag and file to the MCA, whereas the latter focuses on integrating XBRL creation feature within your normal financial reporting model.
Companies can derive a variety of benefits from XBRL:
Automates Data Processing - Tag it once, use it again and again
Standardises Information - Company can relate its information to its subsidiaries and associates and also its peers working in the same industry.
Enables Multi-Language Capability - Company can make its data available in multiple languages.
Enhances Visibility - Investors will find it time saving for collecting the data and analyzing it, which will enhance the visibility of the company.
Provides Data Analysis Capabilities - Facilitates both in-house and external data analysis since the data is machine readable.
The taxonomy does not have an official location. This means, the files that are part of the taxonomy DTS (Discoverable Taxonomy Set) are not published on a web site from the regulator. The consequence of this is that Instance Documents cannot refer to the official files but always to a relative direction into the prepare's hard drive. If you want to work with this taxonomy you first need to prepare your environment to work with this taxonomy.
Step 1. Obtain a copy of the taxonomy files from the URL in the Links section (below).
Step 2. Uncompress those files in a directory you know.
Step 3. Open XBRLizer tool and do File -> Open.
Step 4. Select the file at Final taxonomy\Taxonomy\ci\in-gaap-ci-2011-03-31.xsd.
You should be able to use XBRLizer and navigate to the following part of the taxonomy: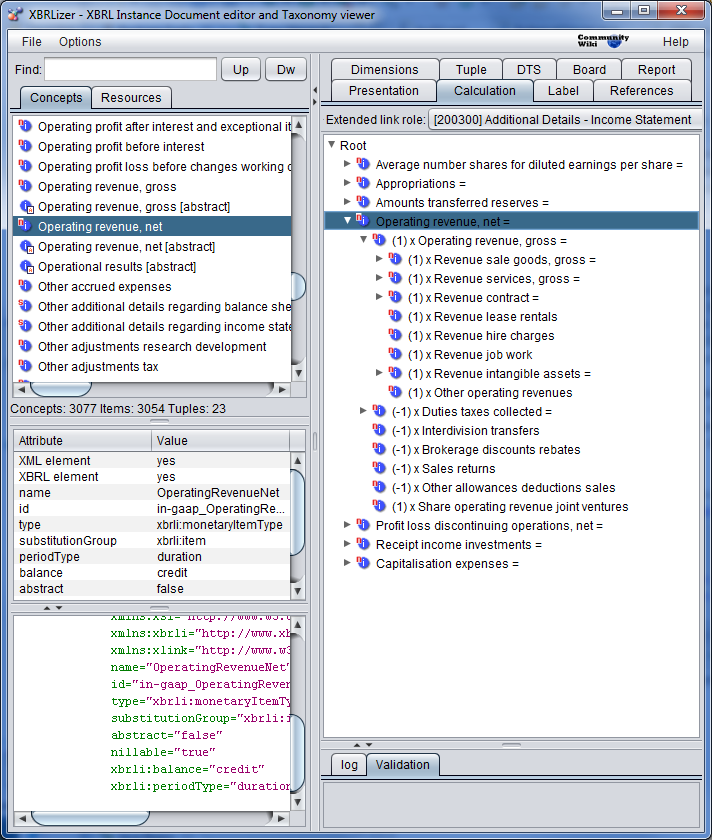 Links: